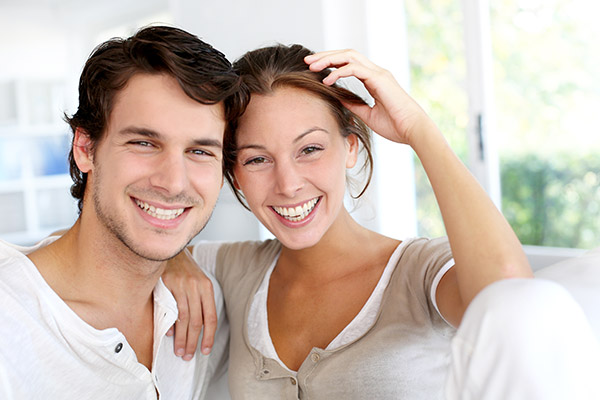 In our dental office, we use dental crowns to accomplish a variety of goals. Whether you have teeth that look dull or stained, ones that have been damaged or are suffering from enamel erosion, we can help. The solutions we offer can solve a variety of your dental problems and help you to love your smile again. While dental crowns are typically associated with amalgam crowns creating a metal smile, the ones we use are made with tooth-colored material and designed to match your natural teeth. This allows you to benefit from the same strength and durability that is found in a crown, without the appearance of one.
Dental Crowns Protect Damaged Teeth
This is an ideal solution when your tooth is damaged and needs to be protected from bacteria or even from the force of you biting down. It works because a crown is a cap that surrounds the tooth entirely. Once it is in place, nothing can directly touch your damaged tooth. This makes it an ideal solution after your tooth has become cracked or chipped in an accident. It is critical that you have this restoration placed immediately after the tooth becoming damaged because if you leave that area exposed, bacteria can attack the tooth and create an infection that will require a root canal or other procedure to remove. Given the trauma that your tooth has already experienced, you do not want to make it worse with an unnecessary infection.
Since dental crowns can be created to mirror your natural teeth, there is no reason not to use this solution for your restorations. They offer more protection than any other solution because they cover all areas of your tooth that are exposed. A dental veneer, by comparison, only covers the front of your tooth.
A cap can also provide protection for any teeth that have become sensitive due to enamel erosion. As people age, it is normal for erosion to take place. Typically this is caused by the food that you eat, how aggressively you brush teeth, a lack of dental care and even age. Once the enamel is gone, your teeth can become so sensitive that drinking a glass of iced tea can cause significant discomfort. Fortunately, a crown can protect the tooth so that you can eat and live life without the fear of irritation.
Cosmetic Dentistry and Dental Crowns
Thanks to how natural a crown can look, it can correct a variety of esthetic problems that you have with your smile. We can have it created in any size so that if your teeth are unnaturally small, crowns can elongate them. If you have a gap in between several of your teeth, crowns can close it. If your teeth are dull or stained and you want to keep them white for years to come, crowns can accomplish that goal. Since they are stain resistant, crowns will maintain their beautifully white shade for years to come. This versatile solution allows us to solve a wide variety of issues. To learn how it can be used to help you, call and schedule a consultation.
---
Related Posts
May 16, 2019
A dental crown is a prosthetic covering for the entire tooth structure, from the biting or chewing surface all the way to the gum line. These dental prosthetics serve both cosmetic and medical purposes. If …
---